Mobile Skip bins
A convenient alternative to traditional skip bins
A mobile skip is a relatively new type of waste disposal alternative that has certain very useful characteristics and is recommended in many cases over a conventional skip bin.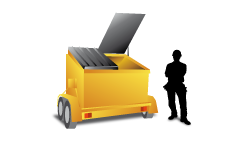 A mobile skip is very similar to a front lift bin such as you commonly see in loading docks for recyclable waste. It is mounted on wheels and is towed behind a light commercial vehicle rather than being carried on a truck like a skip bin.
The key advantages of a mobile skip are:
Can be placed under carports, in garages and parking stations
Can be padlocked to prevent unauthorised dumping by passersby
Does not mark decorative driveways
Can be placed on the street without the need of a council permit (subject to compliance with parking regulations)
Mobile skips are very good for functions , fares and other events as they are more presentable than a conventional skip, can be closed to prevent rubbish from blowing out and additionally, unlike a normal skip they can be used for food waste with prior agreement (if bagged).
We have found mobile skips to be very popular of placement in shared parking in apartment buildings as they fit easily into a single car space. They are also very commonly used for office cleanouts and if need be the driver can perform a "wait-and-go" service in which he will stand by while the skip is loaded and take it way again without the need to leave it onsite.
Not suitable where...
There are certain situations where a mobile skip may be less unsuitable or less suitable than a conventional skip bin.
These included:
Where more than two wheelbarrows of heavy waste such as bricks, concrete, soil, sand, tiles, rocks or turf are going to be disposed of
Where long items that can't be broken down or cut need to be placed in the skip